The fully redesigned Hyundai Sonata can turn heads everywhere it goes, and not just for its dashing good looks. The 2020 Hyundai Sonata for sale advances everything you knew about this once-sedate mid-size sedan model, and offers enough punch, technology, and accessibility to be a true daily-driving force. But how well does it compare against one of its prime competitors, the 2020 Nissan Altima? The sales professionals at Allen Hyundai did some digging and discovered that the two base models for the brands - the 2020 Hyundai Sonata SE and the 2020 Nissan Altima S - have many similarities, but the gorgeous Hyundai candidate is better poised to take home the proverbial tiara. Read on and learn more about the 2020 Hyundai Sonata for sale, and see if the head-to-head comparison with its Nissan counterpart is enough to sway you to our showroom for a test drive.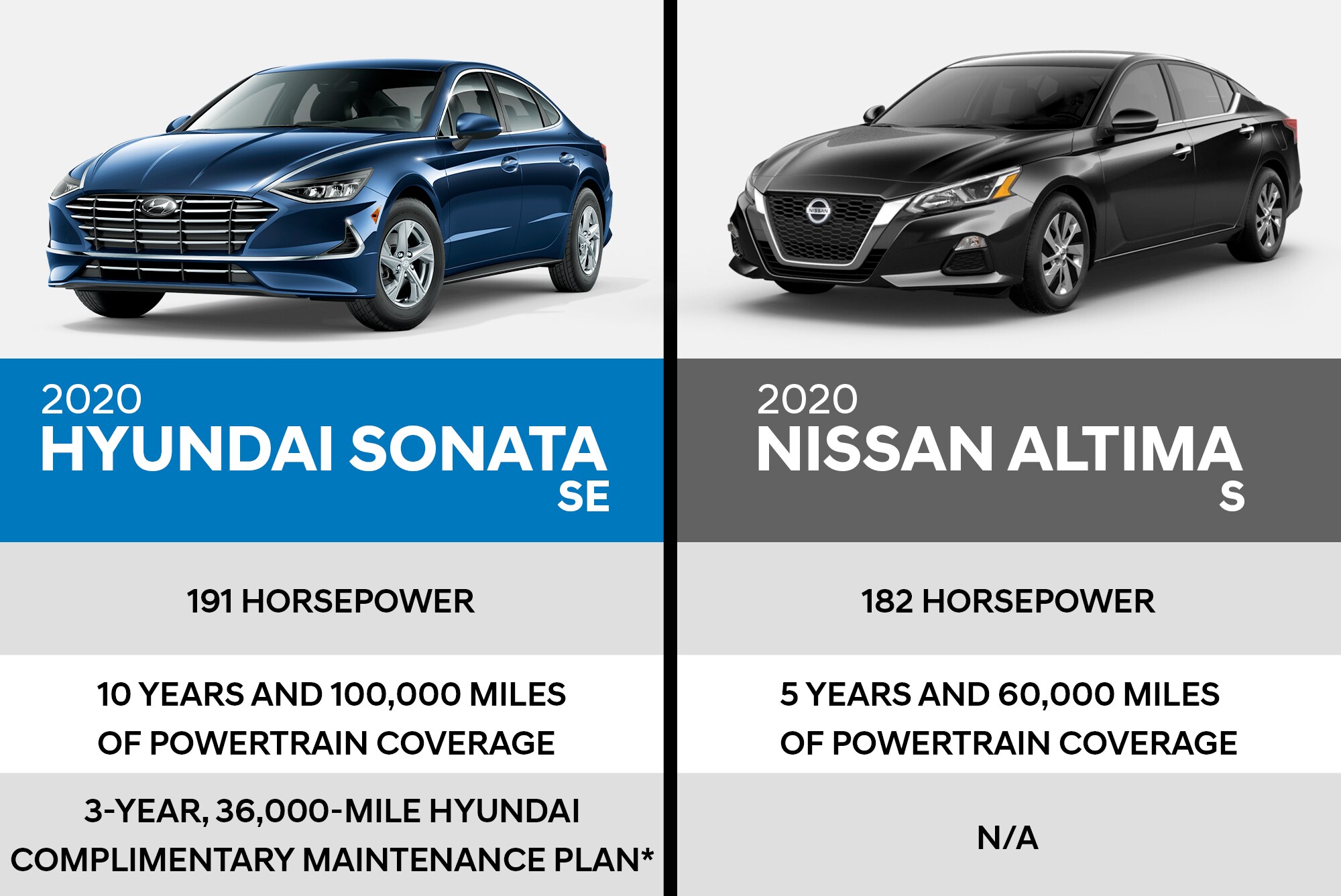 At first glance, the striking and modern design cues of both vehicles won't create much separation, but it's not difficult to see who the real winner is. In the engine department, the 2020 Hyundai Sonata SE features an efficient 2.5L GDI 4-cylinder motor, good for 191 horsepower. Nissan manages to squeeze only 182 horsepower out of its own 2.5L 4-cylinder powerplant. The advantage: the 2020 Hyundai Sonata for sale. Next, let's look at the powertrain warranty. Courtesy of the Hyundai Assurance program, America's Best Warranty gives you 10 years and 100,000 miles of powertrain coverage. The Nissan powertrain warranty stalls out at 5 years and 60,000 miles. The 2020 Hyundai Sonata warranty is clearly better. Finally, maintenance. The sales team at Allen Hyundai is also proud to tell you that the 2020 Hyundai Sonata for sale, and every other 2020 Hyundai model, arrives with a spectacular 3-year, 36,000-mile Hyundai Complimentary Maintenance plan*. Nissan does not offer this advantage on its lineup of new vehicles.
Ultimately, the 2020 Hyundai Sonata SE proves that the 2020 Nissan Altima S is a worthy competitor, but the clear winner is available for immediate sale or lease at Allen Hyundai. The 2020 Hyundai Sonata is reshaping the way the brand is perceived, and we hope we were able to change your own perception as you shop for your next road warrior. Shop our inventory of the 2020 Hyundai Sonata for sale and schedule a test drive today!

*Hyundai Complimentary Maintenance includes Hyundai approved oil and oil filter change (except for electric vehicles and fuel cell electric vehicles) plus tire rotation at normal factory scheduled intervals for 3 years or 36,000 miles, whichever comes first. Offer valid only for new 2020-2021 Hyundai models. See your Hyundai dealer for further details and limitations.