Create A Customized Experience
An outstanding feature of owning a new vehicle is adding your personality to the model. This comes in the form of both style and helpful preferences. To boost your delight, we offer many Hyundai accessories for sale in MS through our online catalog. These accessories provide many functions, such as enhancing performance, adding to the exterior, helpful comfort systems, upgraded technology, and much more. Just like your Hyundai model, these accessories are crafted with precision for long-lasting quality and maximum enjoyment. Our service advisors recommend that you click on the link below to visit the catalog and check out all the Hyundai accessories for sale in MS. Get started by selecting your model and model year, and the catalog will show you all the available accessories. Contact Allen Hyundai to learn more about the purchasing and installation processes.

Upgrade Your Profile
There are many items you can add to your Hyundai model that will enhance its makeup. The Board Shuttle is an excellent addition for transporting your surfboard to the breaking waves along the Gulf Coast. You also can purchase the Roof Bike Carrier so you can ride your bicycles to the campground and explore what is around. Our Hyundai accessories for sale in MS extend to interior protection with the All Season Fitted Liners. We get a lot of rain in Mississippi, and it can be quite sandy along the coast, so these floor liners will keep your vehicle clean from dirt and wetness. The family pet will want to come along for the adventure, and you can give your dog a comfortable place to sit with a vehicle Hammock. The ends connect to the headrests, providing support, so your dog can rest easy without rolling into the floor. Having power for mobile phones is essential, and you can add one or more Dual USB Chargers, giving everyone an outlet to charge their devices.

Shop Hyundai Accessories
There are many available Hyundai accessories for sale in MS, so click on the button below to browse the catalog. Select what car your drive and what year it is, and the catalog will display the accessories for your particular model. Contact a service advisor at Allen Hyundai for more information about the process and how these new accessories can be installed.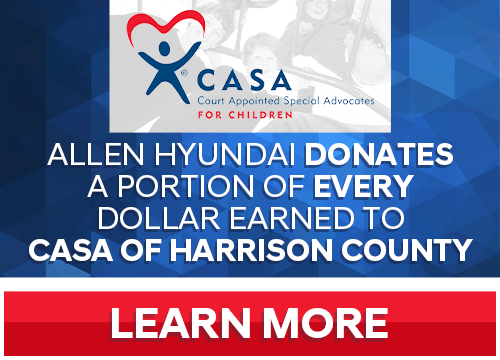 Hours
Monday

8:30am - 7:00pm

Tuesday

8:30am - 7:00pm

Wednesday

8:30am - 7:00pm

Thursday

8:30am - 7:00pm

Friday

8:30am - 7:00pm

Saturday

9:00am - 6:00pm

Sunday

Closed