Earn A Commercial Vehicle Refund
Hyundai models are excellent choices for your business because they deliver outstanding efficiency and a comfortable ride. If you buy a Hyundai model for commercial purposes, the vehicle is eligible for the Internal Revenue Service's (IRS) Section 179 tax deduction program. This program allows your business to claim up to $1,040,000* toward the Section 179 vehicle tax deduction for new or pre-owned business vehicles, equipment, or software acquired during a calendar year. A refund for your Hyundai commercial vehicle is an exceptional way to enhance your business profile by reinvesting the money into additional equipment, resources, or personnel. The friendly staff at Allen Hyundai wants to help you learn more about the Section 179 tax deduction and how you can become eligible by purchasing a magnificent new Hyundai.

Helpful Refund
Adding to your commercial vehicle makes any business more dynamic on the roadway. This purchase comes with tremendous Section 179 tax savings because a company will qualify when commercial models are driven more than 50% for business purposes. The Section 179 tax deduction works by using the final selling price of qualified business vehicles or software - up to $1,040,000 - that was purchased during the calendar year. This total can be deduced from the company's gross income for the year. Your business also can add a 100% depreciation bonus on both new and pre-owned business vehicles for the entire year. Contact the finance staff at Allen Hyundai to find out more about the Section 179 tax deduction.

Shop Hyundai Commercial Vehicles
Performance and efficiency are both hallmark qualities for Hyundai models, making them perfect for business purposes. The Hyundai car lineup features the classic Hyundai Elantra and the Hyundai Sonata, and they both deliver outstanding versatility. For additional space, try the Hyundai Palisade, the Hyundai Santa Fe, or the Hyundai Tucson. These SUV models provide ample room for equipment and customized seating arrangements so you can haul uniquely-sized materials. All Hyundai models are equipped with the cutting-edge Hyundai SmartSense system that gives drivers alerts and assists for enhanced awareness and safety measures. Earn a Section 179 tax deduction by purchasing a Hyundai model for your business or claim your recent buy.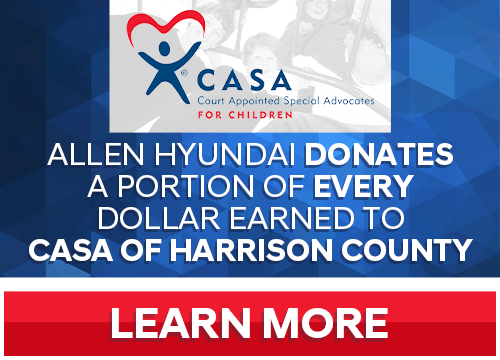 Hours
Monday

8:30am - 7pm

Tuesday

8:30am - 7pm

Wednesday

8:30am - 7pm

Thursday

8:30am - 7pm

Friday

8:30am - 7pm

Saturday

9:00am - 6pm

Sunday

Closed